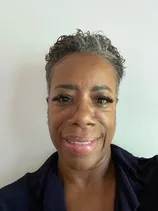 Tonya Martinez, MHC-LP, CASAC-2

My ideal client is a person whose past traumas have impacted their ability to achieve mental stability in various facets of their lives. They want to process painful emotions, modify unhealthy thought patterns and behaviors, become aware of the inner strength they possess, eventually living a life of fulfillment free of the bondage that trauma causes. As a clinician, I strive to meet my clients where they are at on their journey of life. Using a variety of evidenced based practices that are tailored to each individual is the vehicle I use to achieve the desired outcomes my clients want to have.
Trauma is experienced in many ways. Such as, bereavement and loss, abuse, abandonment, adverse childhood experiences, substance use disorders, and a host of other experiences unique to the individual that experiences them. As a Mental Health Counselor, Certified Thanatologist, and licensed Credentialed Alcohol and Substance Abuse Counselor I am equipped to counsel individuals and couples with mental health needs, bereavement and loss, and substance use disorders. I incorporate several treatment modalities, including cognitive behavioral therapy (CBT), motivational interviewing (MI), acceptance and commitment therapy (ACT), and mindfulness.
When I think about the fact that anyone can experience trauma and find themselves in a place that they never imagined it moves on my heart with compassion and empathy. Helping individuals navigate challenging courses on the road of life is my passion. It brings me great joy to know that in some way I have helped an individual find peace and fulfillment in life. If YOU are struggling in this journey of life, you do not have to do it alone. I will meet you on the road and together we can join hand in hand and walk the path that will lead to discovery, healing, and freedom. Diversity is about allowing differences, respecting differences, and accepting differences. Until…the differences don't make a difference anymore.